I just recently received an email from a customer who had ordered our DVD, "Building the Complete Soccer Athlete: Train Like a Pro", and he raised a couple of good points which I wanted to discuss. Here is his message:
————————————————
Josh,

I received your video in the mail yesterday and watched it last night. I thought the content and presentation were excellent. Conditioning, skills and nutrition gave valuable insight. Also, I enjoyed the mental preparation and visualization. I will share your site with others. This is just in time for my son's summer break and should provide some quality instructions he can follow with some friends. One note, I would also talk about getting a good amount of sleep (maybe I missed that portion) and setting a high standard of achievement with school work to complement mental and physical toughness.

Great job. I'm looking forward to watching it again.

Jim D.
————————————————-
First of all, I always appreciate receiving feedback and getting comments from my subscribers and customers; thanks a lot Jim!  Secondly, Jim mentioned a couple of important issues: maintaining high standards in other areas of one's life (ie: academics, career, relationships, etc), and the importance of SLEEP!
As an athlete who is passionate about your sport, it's easy to let it consume all of your time and energy, but it is essential to remember to play at a level 10 when it comes to life's other priorities as well.  It's all about balance, and how you do ANYTHING is how you do EVERYTHING!  As important as that is, in this post I'd like to focus on something many of us need more of: Quality Sleep.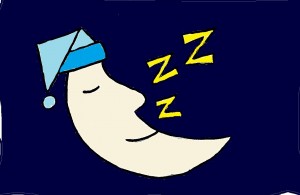 Sleep is an integral part of living a healthy, balanced life, as well as maintaining a high level of athletic performance.  Your physical training is the stimulus or 'trigger' for your body to become faster, stronger, and more fit, but it is during rest that your body actually repairs itself and responds to that stimulus.  If you train hard but do not get adequate sleep, you are continually breaking the body down without letting it rebuild and adapt to the training!  This can lead to increased injuries, fatigue, weakness, muscle loss, and a weaker immune system.
I'm sure you've been warned about "over-training" at some point.  It can be a legitimate concern for high level athletes, but for most of us the risk is not so much about over-training as it is related to "under-recovering".  Your body can actually handle a significant amount of serious training if your nutrition is on point and you get enough quality sleep.  Neglect either of those two factors and say goodbye to your athletic performance.
Human Growth Hormone is a powerful hormone that is naturally occurring in your body, which aids in recovery, healing, metabolizing fat, and keeping you young and healthy.  HGH production is at it's highest in youth and teens, as they are still growing and developing, and gradually declines as we age, but it is still important as we get older.  There are two times in a day when HGH is typically at it's highest level, and both of them we have some control over: one is directly after a brief, intense workout, and the other is during deep sleep.  If you want to do everything you can to become the best athlete you can be, you will want to take advantage of these two times!
HGH

is typically at it's highest level… directly after a

brief, intense workout

, and …

during deep sleep

.
Here are some things you can do to improve the quality of your sleep immediately:
Most studies show that between 7 and 9 hours of sleep is optimal.  Getting less or even more sleep than that is not ideal.
Try to follow a regular schedule when it comes to your sleeping patterns, waking up and going to sleep at the same times each day.
Aim to sleep in complete darkness if possible.  Use heavy curtains to keep out any light from outside, cover your digital alarm clock, or wear a sleep-mask.
Don't eat or drink before sleep. Especially avoid caffeine or alcohol within several hours of sleep.
Try to relax for a couple of hours before sleep by reading a book or listening to soft music.  Avoid watching TV or surfing the internet right before sleep.
Slow down your brain… write down anything that's on your mind before going to bed then try to forget about it until the next day.
Follow these tips and you'll be waking up super-charged and ready for action in no time!
I hope that helps you with your goal to play better soccer.  For more training tips be sure to check out our DVD at www.SoccerAthletics.com, which is now available as a digital MP4 download!  Yes, I finally figured out how to make it available as an instant download online after receiving several requests to do so.  You see, I DO listen to your suggestions!  LOL.    Here's the link to read the Digital Product Review for "Building the Complete Soccer Athlete: Train Like a Pro" from Top Reviews blog.  I'm very pleased with the feedback it's been getting!
Check back soon… more training tips coming up.
Stay fit, Play hard!
Josh

2 Responses to "The Importance of Sleep for Better Athletic Performance"